If you've seen the headlines, you already know – inflation and rising interest rates cooled the market in the latter half of 2022. That slow pace carried into the first quarter of the year, and while the headlines might suggest the housing market has been in a slump, the properties that are priced and prepared well are selling quickly, and inventory levels for all greater Seattle areas remain relatively low – with less than 3 months supply, marking a sellers' market. Though buyers continue to contend with higher mortgage interest rates, prices have stabilized or come down in most areas, and they're finding more selection and less competition, with room to negotiate in protective contingencies, like financing, title, and inspection. Learn more by taking a look at what happened over the first quarter in our reports below.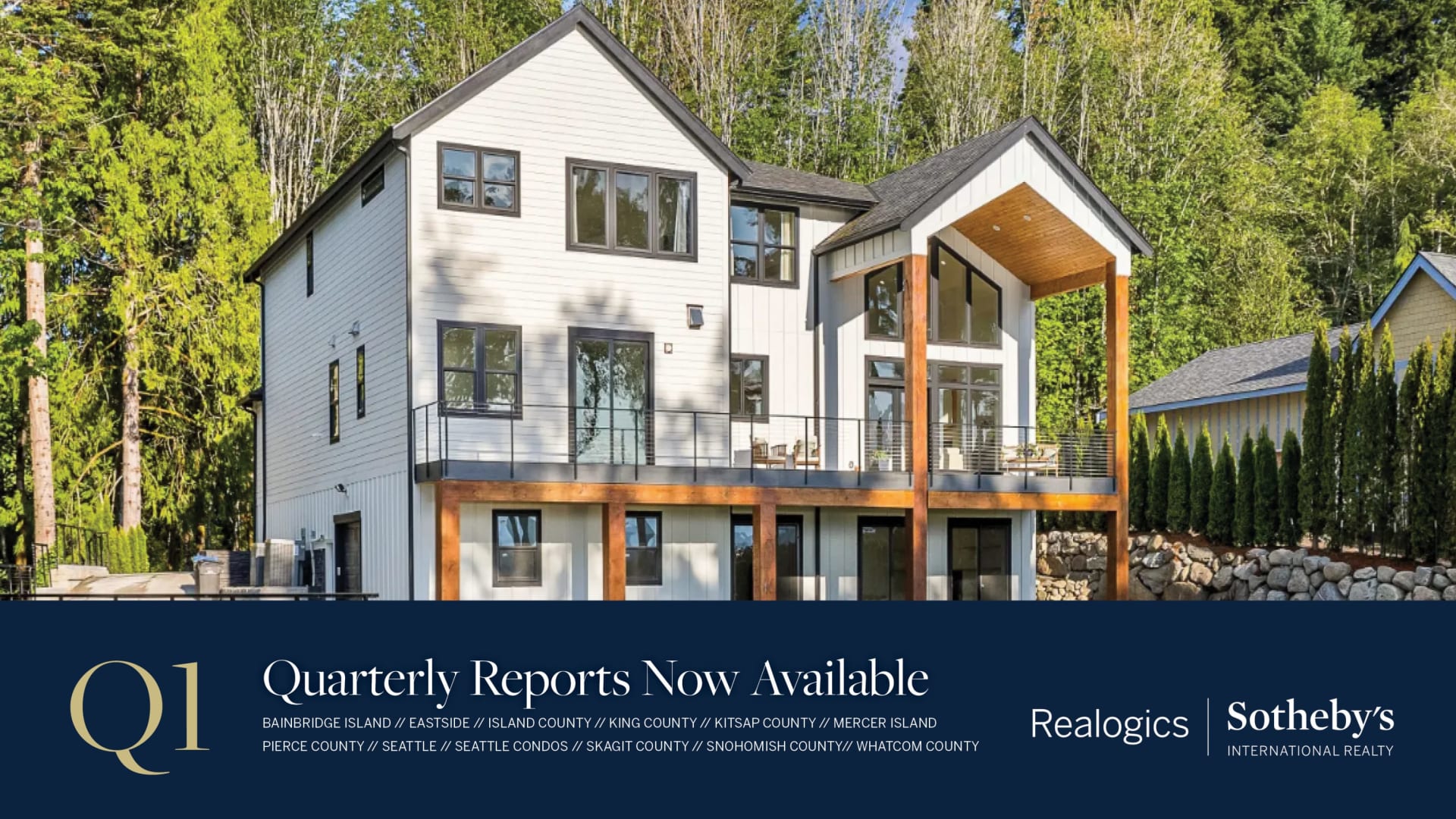 Seattle | Single-Family Homes
The amount of inventory crept up from 0.4 months to 1.7 months year over year, but it remains a seller's market.
Eastside | Single-Family Homes
The Eastside saw some of the region's biggest changes, with a Q1-2023 median sales price of $1.345 million, a 21.7% drop from last year's $1.568 million.
Mercer Island | Single-Family Homes
While the number of homes available for sale is up significantly, the number of homes sold in the first quarter of 2023 is identical to the number of homes sold in the first quarter of 2022.
Bainbridge Island | Single-Family Homes
Sales prices did drop to a median of $1.18 million from Q1-2022's $1.352 million, but they're still slightly higher than they were in Q1-2021.
Seattle | Condominiums
Listings were on the market for an average of 58 days, which is higher than Q1-2022's 35 days, but in line with Q1-2021's figure.
King County | Single-Family Homes
Median sold home prices continued to climb through the end of 2022, though the increases, first in the double digits and just under a 4 percent increase by Q4-2022, finally came to halt in Q1-2023.
Pierce County | Single-Family Homes
While median price growth dipped year over year in Pierce County by just over 3.5%, we can see continued price growth when looking at the median sold price quarter by quarter.
Snohomish County | Single-Family Homes
Not needing to rush into a decision like in Q1-2022, the Q1-2023 buyer found that as prices likely bottomed here, dipping just 7% from where they were a year ago, they got the best of both worlds: options and pricing.
Kitsap County | Single-Family Homes
(Excluding Bainbridge Island) The area saw a relatively insignificant decrease in the year-over-year median sales price, especially compared to other markets in the Puget Sound region, with just a 3.11% drop to $498,000.
Skagit County | Single-Family Homes
Listings for sale may sit on the market for nearly two months on average, and while that not be the ideal scenario for sellers, there continued to be limited inventory, just 1.9 months, meaning that while buyer activity had slowed, the primary advantage continued to be in the seller's court.
Island County | Single-Family Homes
Savvy buyers, especially those who may have also been shopping the marketplace in early 2022, certainly saw an advantage here. More inventory, more selection, less competition, and closed home prices much closer to the original listing price.
Whatcom County | Single-Family Homes
It's a seller's market in Whatcom County, but just barely, with 2.8 months of inventory. That means there were plenty of buyer opportunities to take advantage of in the first quarter (after all, this time last year boasted only .9 months of inventory).
Looking for real estate assistance? We would love to help. Send us a message at [email protected] or call/text us at 206-992-6151.